Daryl Dixon: What Is Pouvoir Des Vivants?
Explained: Who is Madame Genet and what is the meaning of "Pouvoir Des Vivants"?
[This story contains spoilers for The Walking Dead: Daryl Dixon episode 3.] When Daryl Dixon (Norman Reedus) went overboard in the Atlantic Ocean and washed ashore in southern France, it was after escaping a French cargo ship during a prisoner mutiny somewhere in the Gulf of Càdiz. The American then explored the coastal city of Marseille and trekked through the Provence-Alpes-Côte d'Azur, walking past graffiti reading "Pouvoir des Vivants." Daryl wound up at the Abbey of Saint Bernadette — part of the Union de L'Espoir, or Union of Hope — a non-denominantional network that opposes Genet's Guerriers ("Warriors"). Vive la resistance!

The premiere episode of Daryl Dixon ended at a port in Le Havre in northern France, where the ship's captain reported to a shadowy woman named Genet (Anne Charrier). Also aboard the shipwrecked boat was a French doctor (François Delaive), who told Genet: "Our research is largely destroyed. Some of the test subjects may still be of use. Whoever did this made a real mess of things for us." Those test subjects were les affamès ("the hungry ones," what the French call zombies), and that someone was an American named Daryl Dixon.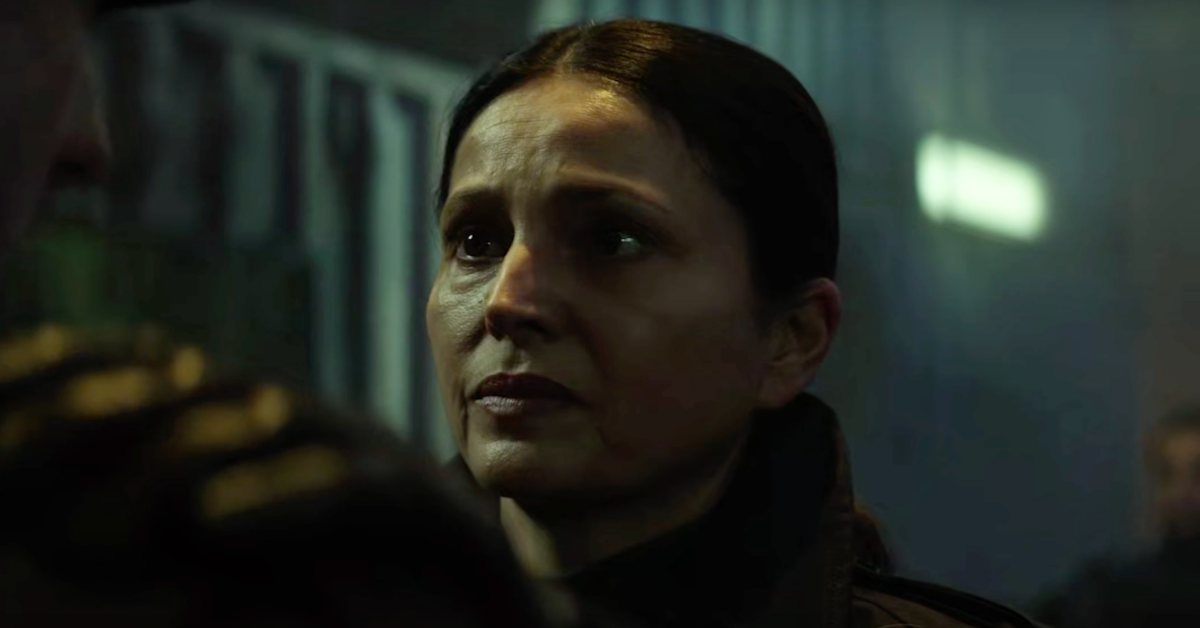 In Sunday's "Paris Sera Toujours Paris" episode of Daryl Dixon, the marooned American escorts nun Isabelle (Clémence Poésy) and her nephew Laurent (Louis Puech Scigliuzzi) — who the Union de L'Espoir believes is the new messiah because of his "miracle" birth by a zombie-bitten mother — to Paris. While traveling through the dead City of Light, Daryl recognizes "Pouvoir Des Vivants" spray-painted on a car and asks Isabelle what it means.
In English, Pouvoir Des Vivants translates to "Power of the Living." Isabelle explains Pouvoir Des Vivants is "a movement that started after the outbreak," sometime after France fell in 2010. "Most of the city is under the control of Genet and her Guerriers." Daryl recognizes that word, too, as the name given to the soldiers who raided the abbey. Among them was Stèphane Codron (Romain Levi), who has the symbol of the cause tattooed on his face.
Codron arrives at the Pouvoir base at the Maison Mère hotel in Paris, where the French doctor has resumed his experiments on walker test subjects. Codron tells Genet that, years earlier, a traveler came through his homeland of Marseille and spoke of a movement in Paris. "He said it would make the world right again," Codron says in French. "He gave me this tattoo and told me now I was a warrior. For Genet. For you." Codron then tells Genet that he can get her what she wants: the American who destroyed the ship that took three years to make seaworthy, and with it, the Pouvoir's genetically-engineered walker variants that are faster and stronger than the average zombie.
New episodes of The Walking Dead: Daryl Dixon premiere Sundays on AMC and AMC+.

Stay tuned to ComicBook/TWD (and find us on Facebook) and follow @CameronBonomolo on Twitter for more TWD Universe coverage.
0
comments