DC Confirms Wonder Woman #1 Second Printing with Special Jim Lee Cover
DC sends Wonder Woman #1 back to print with a special foil cover!
DC kicked off a new era of Wonder Woman adventures last week, and now DC is sending Wonder Woman #1 back to print. Tom King and Daniel Sampere's hit issue is getting a second printing, and the Wonder Woman #1 Second Printing will hit stores on October 24 for $4.99. The final order cutoff date is October 1st, and the new printing will feature new artwork by Jim Lee, Scott Williams, and Alex Sinclair. There will also be a foil printing of Wonder Woman #1 for $9.99, which will be part of the Jim Lee Icons Series. You can check out the new cover below.
As part of that series, the new foil cover will fit as the middle triptych image of the DC Trinity, which includes Superman #7 (Legacy #850) and Batman #608: Batman Day Special Edition. Batman #608 was published on September 5th, while Superman #7 will be released on October 17th.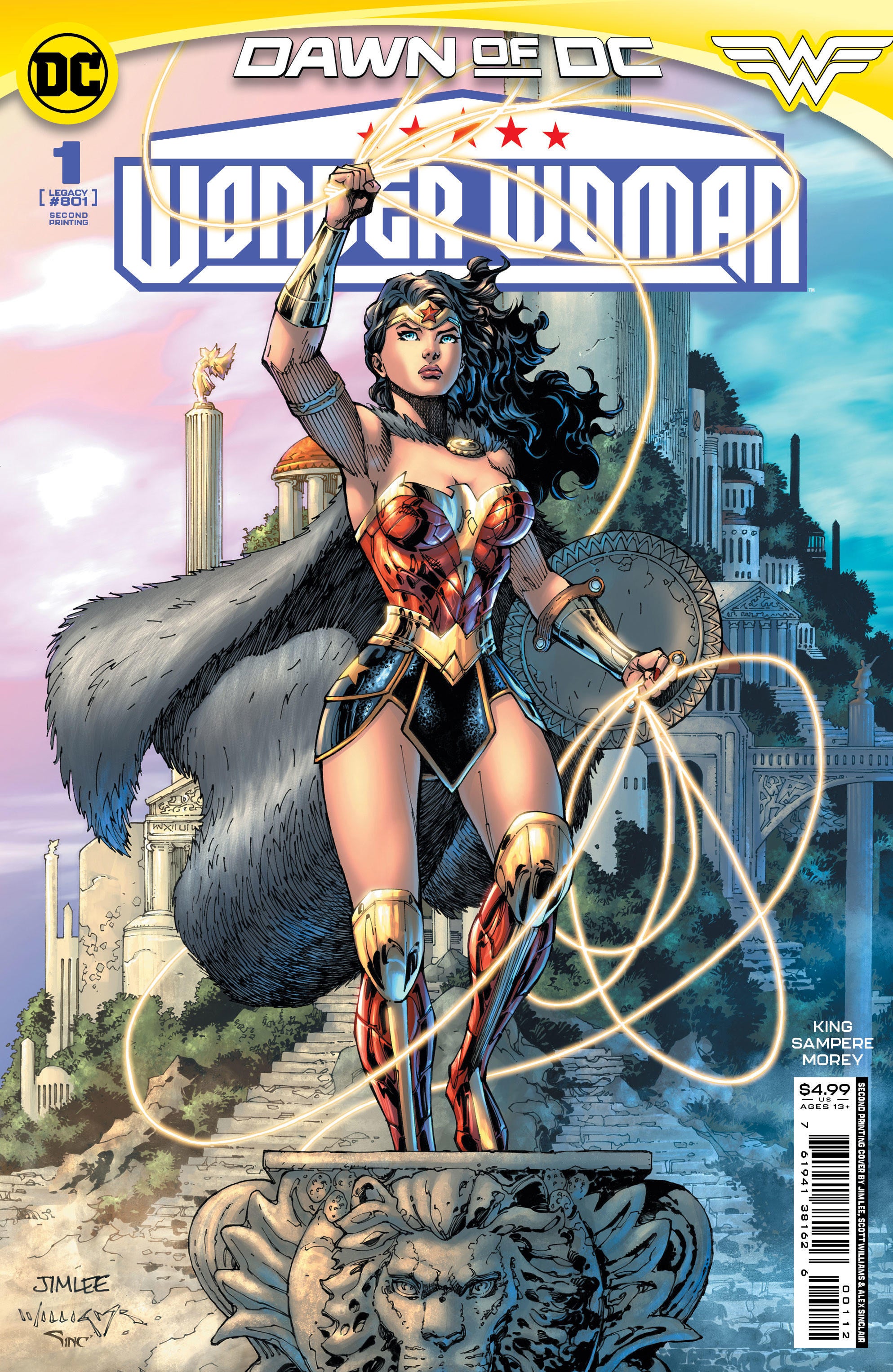 ComicBook Nation had the chance to speak to King all about the first issue of his new Wonder Woman run, and one of the things discussed was how Diana is a presence throughout the entire issue but isn't physically present much until later on in issue #1.
"I started writing the setup, and then I was like, 'Oh, I'm going to do something bizarre where I'm not going to show the main character until page 18,' which is a crazy thing to do in a first issue. She's on every page, and the fact that everybody's talking about her, everyone's anticipating her. Diana appears on a page early on without her costume on. But I was like, 'I want this to be attention buildup until you get to that sort of badass, 'The hero has arrived,' moment.' And you've seen that in movies a lot, like old Westerns and stuff. But you don't see that in comics a lot, so there was a big risk," King said.
"When I turned in the script, I was like, 'I realize she does not appear until page 18. I'm just trying this out. If you hate it, let me know.' And my editor was like, "Let's take a big swing. Let's try it." So Brittany was very nice about it," King said. You can find more from our interview with King on Wonder Woman #1 in the video below, and you can find the official description for the issue below as well.
WONDER WOMAN #1
Written by TOM KING
Art by DANIEL SAMPERE
Cover art by JIM LEE, SCOTT WILLIAMS, and ALEX SINCLAIR
$4.99 US | 40 pages | Variant $9.99 US (foil)
ON SALE 10/24/23
"After a mysterious Amazonian is accused of mass murder, Congress passes the Amazon Safety Act, barring all Amazons from U.S. soil. To carry out their plans, the government starts a task force, the Amazon Extradition Entity (A.X.E.), to remove those who don't comply, by any means necessary. Now, in her search for the truth behind the killing, Wonder Woman finds herself an outlaw in the world she once swore to protect!
Writer Tom King (Batman, Mister Miracle, Supergirl: Woman of Tomorrow) and superstar artist in the making Daniel Sampere (Dark Crisis on Infinite Earths, Action Comics) join forces for this action-packed relaunch and the beginning of what will undoubtedly become a groundbreaking run on the character."
What did you think of Wonder Woman #1? Let us know in the comments and as always you can talk all things comics with me on Threads @mattaguilarcb!
0
comments