Castlevania: Nocturne Adds Surprising Video Game Favorite
Castlevania: Nocturne calls upon the game's continuity and brings a surprising character from the games to the animated series.
The Castlevania animated series isn't a direct adaptation of the gaming series, instead taking a number of characters and elements from the Konami series and incorporates them in some ingenious ways. While Nocturne has confirmed that Richter Belmont, Maria Renard, and Annette from the games will lead the charge, they aren't the only characters that make an appearance in the video game adaptation. To help Richter in his quest, the Belmont of the French Revolution calls upon some unexpected aid from one of the most unlikely places.
Warning. If you have yet to watch Castlevania: Nocturne, be forewarned that we'll be diving into spoiler territory. Halfway through Nocturne's first season, we bare witness to Richter Belmont attempting to overcome his fear of the vampire that killed his mother. Pleading with his allies to flee the scene once Orlox makes an appearance, Richter does some soul-searching in a bid to find his courage. Encountering a white-haired, bearded man in a bar, Richter comes to see the stranger take down a vampire and reveal that he has more in common with the Belmont than he originally knew. In fact, the mysterious stranger just so happens to be a Belmont himself.
A New Belmont Appears
The first four seasons of Castlevania focused on Trevor Belmont, and while this season shone a spotlight on Richter, he isn't the only member of the vampire-slaying bloodline to appear in Nocturne. Juste Belmont, Richter's grandfather, makes his animated debut and offers some well-timed advice for the current whip slinger. For fans of the game franchise, they might recognize this member of the Belmont clan, who is one of the most ruthless of all the vampire slayers.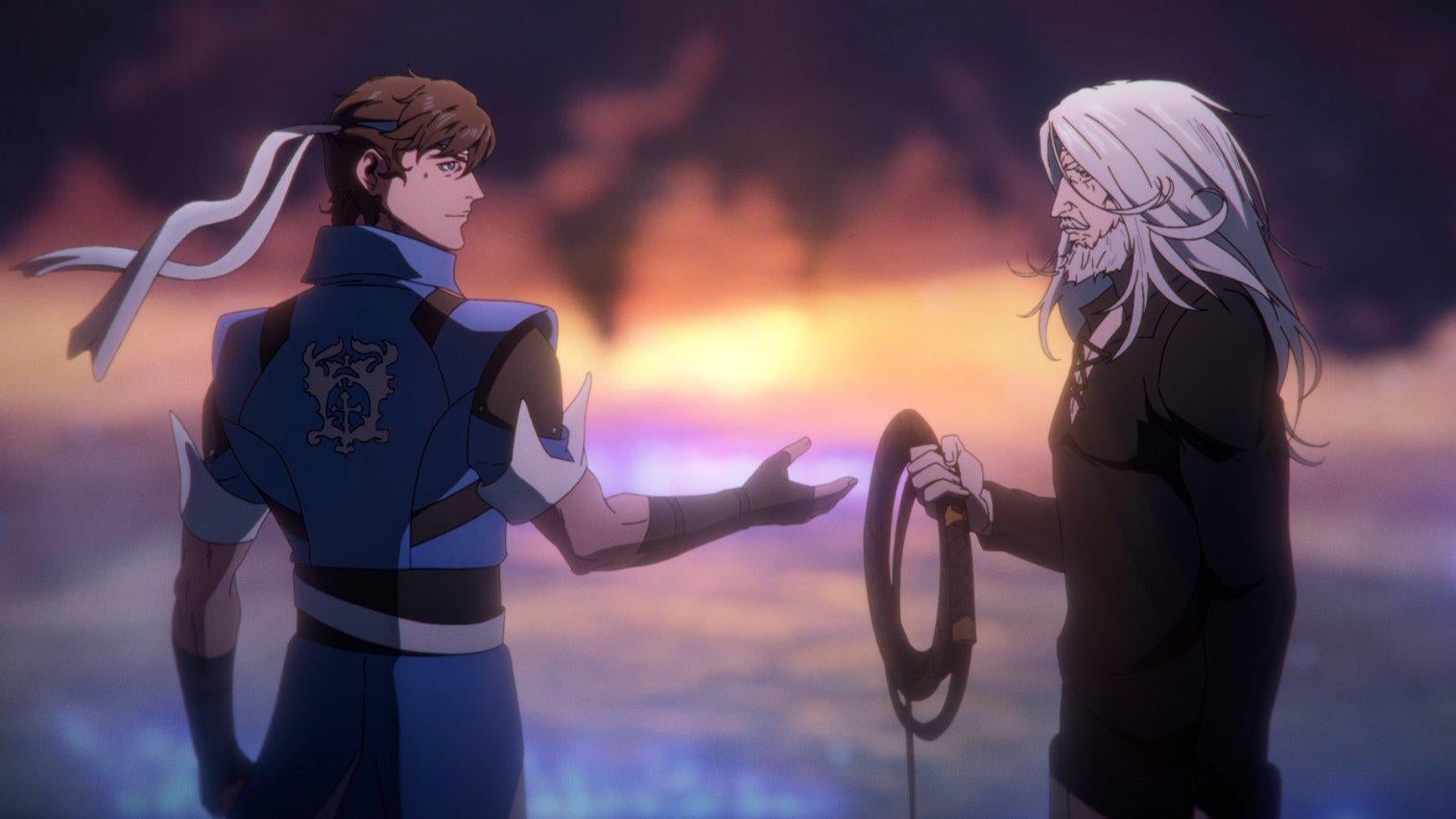 Juste, for those who might not be familiar, is the star of the Castlevania game titled "Castlevania: Harmony of Dissonance" for the Game Boy Advance in 2002. Richter's grandfather got into the vampire-killing business at the age of sixteen. As Juste actually mentions in Nocturne, he finds himself fighting against his ally Maxim, who foolishly collected Dracula's remains to prove his superiority to the Belmont but was possessed by the lord of the vampires instead. Of course, Juste isn't the only character to make a comeback in Nocturne but he might be the most surprising.
What did you think of Juste making his animated debut? Feel free to let us know in the comments or hit me up directly @EVComedy to talk all things comics, anime, and the world of the Belmont Clan.
0
comments